Custom sharpening wheels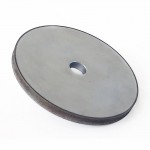 In every serious mechanical shop, bench grinders, sharpenig machines, special precision grinders are present.
The needs are always different and unique. That is why we help you design your sharpening tool.
We choose geometries, type and dimension of the abrasive together with you.
Very effective is the regeneration service, that allows a rapid refurbishment of your wheels.