Shaped wheels for FRP/GRP/GRE pipes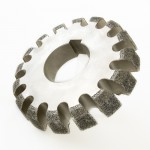 We manufacture and refurbish shape wheels for Glass Fiber Reinforced Plastics.
Grinding drums, calibration wheels, saw blades, chamfering and groove wheels.
We manufacture every type of diamond grinding wheels, according to your drawings.
Moreover, we can help you in optimising wheel specifications, in order to obtain best performance.
Please, do contact us for any information or quote.