Files for core finishing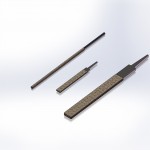 The production of foundry cores is highly automated.
Nevertheless, in many cases, finishing by hand files is required.
Unfortunately the core material is particularly abrasive.
Standard hardened steel files are relatively cheap, but lose the cut very fast.
Diamond files solve this problem.
Diamond keeps its cutting-ability much longer and finishing time is therefore reduced.
For this reason, cast iron foundries and core production shops have been buying our diamond files for long.
Together with our customers, we developed a number of shapes that are today presented in our catalogue.
In addition to the proposed shapes and dimensions, we can develop for you custom-shaped files.