RF RT – Internal grinding wheels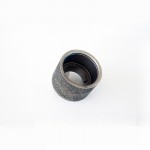 Our range od standard grinding wheels has widened.
Standard grit sizes are D126 and B126.
In case of order, please specify whether Diamond orCBN.
Standard sizes here below are normally in stock.
We will be pleased to prepare custom wheels for your specific grinding needs.
COD
ØD
ØH
RF10
10
6
RF12
12
6-8
RF14
14
6-8
RF15
15
6-8
RF16
16
6-8
RF18
18
8-10
RF20
20
8-10
RF22
22
8-10
RF25
25
10
RF30
30
10
RF40
40
10
RF50
50
10
RT18
18
8
RT20
20
8
RT25
25
8
RT30
30
12
RT35
35
12
RT40
40
12