RG – Internal grinding pins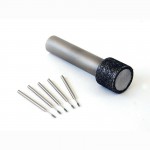 Our range od standard grinding pins has widened.
Standard grit sizes are D126 and B126 (except for very small pins).
In case of order, please specify whether Diamond or CBN.
Standard sizes here below are normally in stock.
We will be pleased to prepare custom pins for your specific grinding needs.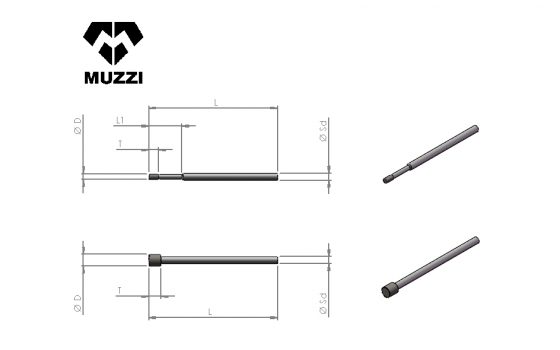 COD
D
Sd
L
L1
T
RG 0,40
0,4
3
55
6
3
RG 0,50
0,5
3
55
6
3
RG 0,60
0,6
3
55
6
3
RG 0,70
0,7
3
55
8
3
RG 0,80
0,8
3
55
10
3
RG 1,00
1,0
3
55
10
4
RG 1,25
1,25
3
55
12
4
RG 1,50
1,5
3
55
14
4
RG 1,75
1,75
3
55
14
4
RG 2,00
2,0
3
55
14
4
RG 2,50
2,5
3
55
20
4
RG 3,00
3,0
3
55
20
5
RG 3,50
3,5
3
55
-
5
RG 4,00
4,0
3
55
-
5
RG 4,50
4,5
3
55
-
5
RG 5,00
5,0
3
55
-
5
RG 3,00 - 6
3,0
6
80
35
8
RG 3,50 - 6
3,5
6
80
35
8
RG 4,00 - 6
4,0
6
80
35
8
RG 5,00 - 6
5,0
6
80
35
8
RG 6,00
6,0
6
80
35
8
RG 6,30
6,3
6
80
-
8
RG 7,00
7,0
6
80
-
10
RG 8,00
8,0
6
80
-
10
RG 9,00
9,0
6
80
-
10
RG 10,00
10,0
6
80
-
10
RG 12,00
12,0
6
80
-
10
RG 14,00
14,0
6
80
-
10
RG 15,00
15,0
6
80
-
10
RG 16,00
16,0
6
80
-
10
RG 18,00
18,0
6
80
-
10
RG 20,00
20,0
6
80
_
10